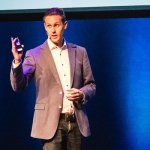 We're back! On this episode, we were very happy to invite Ingmar Verheij along to chat to us. Ingmar has been a community rockstar since forever. With a long history in application development, consulting, EUC and now working in Citrix, Ingmar has had a fascinating journey through our industry.
On this episode, Ingmar takes us down memory lane, shares his story and we chat about all things Citrix, Consulting, IoT and everything along the way. Ingmar is a true gentleman, this episode was a real pleasure to record.
On this episode, we covered the following topics and so much more:
Ingmar's start in IT.
Ingmar's journey from kick ass community advocate and consultant to vendor land.
How his move affected his outlook and how it went.
Independent consultant to Vendor enthusiast, how did you negotiate the blinker effect.
All things XenApp and XenDesktop Express.
Samsung Dex and nirvana phone.
Ingmar's favorite Citrix product.
Virtues of ShareFile.
IoT
Why is IoT such a passion to Ingmar?
How do you see IoT invading enterprise.
Presenting like a Pro, Ingmar shares his epic tips.
And so much more!
[soundcloud url="https://api.soundcloud.com/tracks/331728794?secret_token=s-QwxW3″ params="auto_play=false&hide_related=true&show_comments=true&show_user=true&show_reposts=false&visual=false" width="100%" height="120″ iframe="true" /]