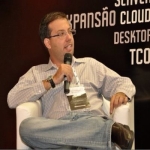 And we're back! here for a great podcast was a man who needs no introduction, Claudio Rodrigues!
Claudio is an entrepreneur, MVP, CTP, vExpert and has been in the EUC and desktop virtualisation market since it's inception.
Claudio is a great guy, with an "always honest" opinion on all matters and he was a great guest we'd be attempting to get on for some time!
On this podcast, we had the pleasure of chatting with Claudio about the following topics:
What companies/products has Claudio had a hand in over years?
With Synergy right around the corner, what do you expect?
How does VMware's moves with JIT and AppVolumes make Claudio feel about VMware?
Thoughts Thoughts does Claudio have on Dell's announcement on vWorkspace?
What are Claudio's thoughts on other players in the market?
Does Claudio see someone like Parallels gaining more traction?
What are Claudio's thoughts on Microsoft's approach to the EUC space?
Does Claudio expect DaaS this year in Azure?
Raspberry Pi is getting all the buzz as thin clients, what's Claudio's take on them?
What does Claudio think is missing in the EUC space? Where does it need to go next?
What's on the horizon for Claudio?
On a personal note, away from EUC what technology does Claudio enjoy?
[soundcloud url="https://api.soundcloud.com/tracks/268304633?secret_token=s-PmLvC" params="auto_play=false&hide_related=true&show_comments=true&show_user=true&show_reposts=false&visual=false" width="100%" height="120″ iframe="true" /]