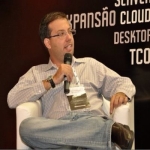 And we're back! here for a great podcast was a man who needs no introduction, Claudio Rodrigues!
Claudio is an entrepreneur, MVP, CTP, vExpert and has been in the EUC and desktop virtualisation market since it's inception.
Claudio is a great guy, with an "always honest" opinion on all matters and he was a great guest we'd be attempting to get on for some time!