Happy holidays! Jarian is back again with special guest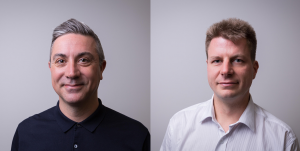 co-host Shane Kleinert. We had the pleasure of chatting with Andrew Newlands, CTO and Founder and Simon Trilsbach, CEO at 2 Steps.  We discussed all things 2 Steps with Andrew and Simon.
On this podcast we had the pleasure of talking with Andrew and Simon about:
2 Steps overview and company history.
What is the 2 Steps learning curve?
How is 2 Steps licensed?
What does the 2 Steps infrastructure look like? How do they handle remote sites?
The difference between using Splunk backend vs built in backend. Why one versus the other?
Why agentless synthetic monitoring for Citrix? What else do they have synthetic monitoring for?
How do they handle multifactor authentication?
Where do they see themselves in the space compared to other solutions? Are they more focused at being good at one solution versus having multiple solutions?
2 Steps futures. What other areas of testing technology do they see being added to their testing suit to ensure accuracy and efficiency? Where do they see 2 Steps in the next 2-3 years?
Do they have a community license? What are their thoughts on community?
Thanks to Shane for being our special guest co-host!
To learn more about 2 Steps: